Howdy, y'all!
It is officially summer! Long days, lots of free time for the kids in your life, and some good inspiration for book material. Even though you may have less free time now that school is out, you must admit, summer vacation represents the purest distillation of childhood joy. Keep that in mind the next time your kids are driving you crazy

.
Join us
JOIN US Wednesday,

June 29

th at 10 a.m. in the College Station Barnes &

Noble for our monthly meeting

.

Our program is as follows: this month we

'

ll discuss wr

iting for the Christian publishing market.
We'll also discuss news and provide encouragement. Gentle critique begins at 9:30 a.m. Bring copies of 5 double-spaced pages of your work in progress. Those who have time may go to lunch at a local restaurant. Members and friends welcome!
Local/Regional Events
Special Event, Teen Event (Teens)


Friday June 10, 2016
Join us at

7:00PM

for our Trivia Blast, created by Penguin Teen and Random House's First In Line, who will send one winner in every store advance reader's copies* of the most anticipated new teen books. *Advance reader's copies will be preselected by the publisher. #BFESTBUZZ
At

6:30

Cece Barlow and Photini Sierra local self published writers will be reading from their works.
Special Event, Teen Event (Teens)



Saturday June 11, 2016 11:00 AM

Join us at

11:00 AM

to get sneak peeks of your favorites, including James Dashner's prequel to The Maze Runner, new stories from Miss Peregrine's Peculiar Children by Ransom Riggs, and an exciting new series from Veronica Roth, plus other exciting giveaways. Limit 1 each per customer. While supplies last. #BFESTBUZZ
3:00 PM- 4:00 PM

Writing Workshop, Molly Blaisdell
4:00 PM-6:00 PM

Sherry Garland appearance.
Location and for more info:
Lone-Star Pavilion
711 Texas Avenue
College Station, TX 77840
979-764-8955
June 20th: Brazos Valley SCBWI Social
This month we'll meet at the Starbucks on Rock Prairie Road & Hwy. 6 at 7 p.m.
August 30th: Author Platform webinar
Mark your calendars for the end of August when the
Texas SCBWI webinar series presents
"
What is Author Platform Building Anyway? The Ins and Outs of Building Your Niche."
With Elaine Kiely Kearns and Sylvia Liu of KidLit 411.
Summer Reading
For book lovers (and people who want their kids to be book lovers) summer means summer reading. Here are a few useful lists

:
Writing about
"
the hard stuff"
The other day I showed my kids "The

T

ale of Princess Kaguya," a beautifully animated movie (the whole thing looks like a watercolor and charcoal drawing) that is a fair bit weirder and more intense than most Disney movies out there. The end is really sad and all three of my kids cried… a lot. I later posted on Facebook about it being a "parenting fail." A friend subsequently commented "Why? Suffering is part of the human experience." That observation got me thinking about how we deal with incorporating sad experiences or difficult subject matter into our writing.
Obviously we all want our kids to have happy lives, but we also want them to be prepared for all the ups and downs that real life entails. I often wrestle with the internal struggle between maintaining the illusion of a world where the "bad guys" are easily identifiable (because they're all ugly) and the

rain forests

magically grow back as soon as said bad guys are vanquished and preparin

g

my kids

for the real world, where things are never as black and white. When is the right time to start talking (or reading and then talking) about difficult issues such as discrimination, war, or poverty? I'm not sure what the correct answer is, but I do think sitting at home with your parent or grandparent seems as safe a space as any to encounter those things for the first time.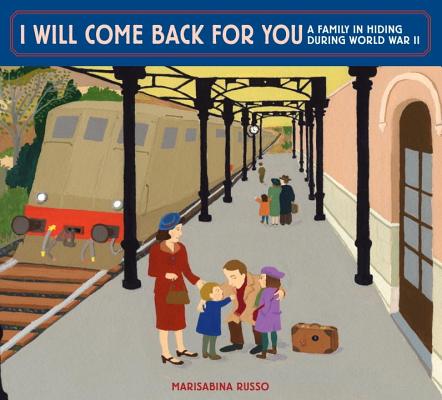 I have had a book sitting on the highest bookshelf for a while now. It is called "I Will Come Back for You; AFamily in Hiding During World War II"… you can see where this is going. My husband's grandparents are Holocaust survivors so when I read about this book I figured it would, someday, make for a good way to talk about our family history. You'll notice I said "someday." But my kids brought it down from the shelf last week and asked to read it. In the book a grandmother tell the story of her family being split up and going into hiding during the war by telling tales behind different charms on her bracelet. I'll be honest; it was not an easy book to read. Most of the grim parts went over my kids' heads, but some day they will ask more questions and I will have to answer them.
You don't necessarily need to go head first into stories of dramatic struggles though. Even seeking out books with a small dose of reality can be a good first step. The ups and downs of friendship are struggles that even young children can relate to. "Making Friends" is a book published by the Fred Rogers (yes, that Mr. Rogers) Company that has proved very useful as my children started becoming more social. The language is simple, there are lots of photos, and it very accurately depicts the fun (playing!) and not so fun (fighting!) aspects of friendship. Sometimes playdates can flip unexpectedly from Anne of Green Gables's "bosom buddies" to "The Lord of the Flies" chaos and in the aftermath of hurt feelings, this book has come in handy.
Not qui

te sure how to wrap this up since it seems like it is part of a larger conversation that should definitely include some mention of race and gender and, because of my Latin background, colonialism. But I'll end it here for now and maybe next time I'll have more resources and examples on hand. In the meantime I welcome your feedback!
That's it for this month's Scratch! Hope you enjoy the summer and manage

to eek out a couple of minutes here and there for writing now that school's out!

Disclaimer: The views expressed here are my own, and not necessarily those of the SCBWI.